This will be one of the most comprehensive beginners guide you ever need if you like to learn more about dropshipping in Singapore but do not know where to start.  I will be touching on what are the still profitable dropshipping models out there and you can decide what is suitable for your current situation. 
Please understand that the landscape of doing e-commerce dropshipping is ever-changing and what is working now may not work in the next year. The difference between someone who is profitable and not profitable doing this business model is the ability to adapt to changes fast. I will always be updating this guide with the latest dropshipping information whenever possible.
Currently, I am into one of the business models mentioned in this guide and will gradually look to diversify my income sources through e-commerce dropshipping. 
Even though the title is dropshipping in Singapore, please do not be discouraged if you happen to land on this guide and not residing in Singapore. You should be able to execute most of the dropshipping business models I mentioned as long as you have a laptop and internet access.
What is Dropshipping?
Dropshipping is a low-cost business model where you sell products that you do not own either on your own website or through marketplaces liked Amazon or Qoo10.
After you get a low-cost supplier like Aliexpress to fulfil your order. This business model typically involves 3 parties. The supplier, middleman(you) and the consumer. Just for illustration purpose, we use this jade roller facial product as an example. 
You can see from the picture above that the jade roller is selling for $21.98USD  while you can get a similar product in Aliexpress for $5.18USD inclusive of shipping. 
That is a profit of $16.80USD with almost no upfront investment or risk from a drop shipper like you to keep in the pocket.  Of course, there will be other charges involved which may impact your margins. 
However,  do note that a lot of brick & mortar retails stores have a gross margin of less than 10 %.  The main reason is due to their high overheads of keeping inventories, paying rental and heavy manpower overheads. 
Is Dropshipping a real business?
You may have only heard about dropshipping for the past few years, but it is really not a new concept. Back in the 1950s, post mail companies in the United States use mail product catalogues all over the country.  Additionally, they use the mail to receive orders and payments. Some of them are fulfiled in-house while some orders are dropshipped by other companies. 
Just in time Manufacturing
The next evolution is just in time manufacturing(JIT).  Just-In-Time manufacturing was the next major step up after the post mail companies in the drop shipping history. What happens is that instead of risking keeping lots of inventories in their warehouse, retailers can just take pre-orders and payments from their customers before ordering from the factories. Depending on the proximity and capacity of the factories, the retailer or customer can expect to receive the product within a few days or weeks.
Start of Internet/Ecommerce
The start of the internet in the 1980s helps to kick start globalisation of e-commerce which allows retailers and potential consumers to connect together all around the world. This spur the creation of big e-commerce titans liked Amazon, and Alibaba and also other smaller eCommerce marketplaces liked Qoo10 or Lazada. 
Platforms/Software
There are also more eCommerce platforms created like Shopify.  And eCommerce plugins for WordPress liked Woocommerce which allows small sellers liked us to have a market share in the e-commerce space.
Dropshipping is one of the most popular business models for smaller sellers liked me and you. There is little or no startup cost with not much technical knowledge required.  Even more,  you can manage it from any part of the world as long as there are a laptop and internet access. 
There are plenty of platforms and software that helps you to manage your dropshipping business. Now basically every Tom, Dick or Harry can start an e-commerce dropshipping business at the comforts of their home. 
Does Dropshipping really work?
Yes, dropshipping does still work in 2019. I have been doing this on marketplaces like Qoo10 and eBay since 2016. Unfortunately, it is almost not possible now on eBay after the crackdown by them putting lots of eBay drop shippers out of business. You can see the picture below where they removed my top seller status and disallowed dropshipping. 
And if you have the mindset that this is an easy business you can set up quickly and outsource, you may not survive long. To make it work, you will have to get your hands dirty to learn the ins and outs of managing your own dropshipping business. The essence of dropshipping is more like retail arbitrage. 
Retail arbitrage involves finding trending products on retail store shelves and selling these online for a profit. This can be your Value store, Daiso or Miniso where you try to flip things for a margin in places like Carousel.
There is also the e-retail arbitrage, where you just list the plenty of items you don't own and sourced from another website that sells them much cheaper. Since you are buying from retailers and not from wholesalers like alibaba.com, you are basically doing e-retail arbitrage in the form of drop shipping.
How to Start Dropshipping in Singapore?
There are several ways to start dropshipping in Singapore and I will want to touch on a few dropshipping models you can start straight away. 
Shopify
Shopify is one of the world's popular e-commerce platform because it's easy to use interface and setting up an eCommerce store website can be done within minutes. This is a simple workflow when you are dropshipping on Shopify.
Dropshipping On Shopify Workflow
Set up a store with Shopify and buy a domain name[They do offer a free trial for new entrepreneurs]

Setup how you are going to receive payment and ensure everything like store disclaimer or privacy policy is in place. There are a few different things to consider when you're choosing which payment methods to offer. If you want to let your customers pay using a credit card, then you can use Shopify Payments or a third-party provider which you can activate or change in your shopify admin.

Choose a free Shopify theme or a paid theme like Konversion to give it a professional look with higher conversion.

Connect to the Shopify apps liked Oberlo so you can start listing items easily from Aliexpress

List and set the price for your products in your Shopify store.

Ensure everything is priced properly with sufficient margin. A good rule of thumb is to ensure that you have at least a 20% gross margin per sale.

Promote your Shopify store through word of mouth, Facebook advertising or doing search engine optimisation(SEO) on search engines to drive traffic and potential customers to your store. You can also tap on social media marketing like using Facebook pages, youtube channel or Pinterest. 

Process manually or use Oberlo to automate the order fulfilment process. 

Provide your best customer service and ensure customer receive the product in good condition

Process any refunds or returns if needed. Rinse and repeat.
Due to Covid 19, Shopify is extending their free trial period from 14 days to 90 days. It will be a great time to set up your own dropshipping business with one of the best eCommerce platforms at almost zero cost. You can sign up here.

Things to take note
Please note that how do you promote your own Shopify store will really depend on what audience are you targeting for your product's niche. You have to know what is the persona of your potential buyers and which potential channel will they get to know your brand.
This is important even when you are trying to do Facebook advertising as you will need to know what is your targeted audience.  For example, let's say you plan to beauty products maybe something like the jade facial roller we mentioned above.
A typical persona can be Emily 40 year old, working mum who is concerned with her looks and maintaining of physical image. Earning an income of 70k a year with 14k a year to spend on beauty and cosmetic related products. I hope you get the idea and your product is supposed to solve a problem that Emily is facing.
Use the free tools provided by Shopify to analyse the sales data or Google Analytics to understand your audience better. The Website cart analysis report requires that you be on the Shopify plan or higher. [Source] 
These reports can provide insights to your business about how to:
market your products better online and offline

upsell to your best target audience

create promotional pricing and product bundles

increase your average order total
[Related Article: Best Dropshipping Course Singapore Under SGD$500]
WordPress
WordPress is one of the most popular content management system(CMS) in the market. Just in case you are not sure what is CMS, here is the definition in layman's term. A content management system (CMS) helps you to manage the creation and modification of website content in a simple way.
WordPress owns close to 60% of the market for CMS-powered websites on the internet. Gone are the days that you need to learn coding or certain technical knowledge before you can create a stunning website. WordPress makes the task much easier for you.
Dropshipping on WordPress Workflow
This is the basic workflow when you are dropshipping on a WordPress website
Buy a domain name and hosting plan. (If you are on a shoestring budget, just go for a low cost and reputable hosting provider like Bluehost. They even provide you with a free domain for the 1st year.)

Install a theme on your website. (Go for a simple theme like Generatepress that loads fast)

Use a plugin like Alidropship to facilitate the listing of products on your site from Aliexpress. ( Remember to use code GETPLUGIN10 to get a 10% discount)

Ensure everything is priced properly with sufficient margin. A good rule of thumb is to ensure that you have at least a 40% – 50%  gross margin per sale to cover your marketing cost.

Promote your WordPress store through word of mouth, search engine marketing ads(like google ads or bing), facebook ads or doing search engine optimisation(SEO) on search engines to drive traffic and potential customers to your store. You can also promote on social media channels like using Facebook pages, Youtube channel or Pinterest. 

When there are any orders, Alidropship plugin allows you to semi-automate the order fulfilment process.

Update and provide the tracking number to the customer.

Provide your best customer service and ensure customer receive the product in good condition.

Process any refunds or returns if needed. Rinse and repeat.
If you are too busy to set up this from A-Z and want to pay a bit more to have it done for you fast,  you can always order a turnkey dropshipping store according to your preferences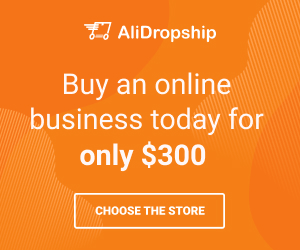 Things to take note
To drive traffic to your site through search engine optimisation on Google will depend on a lot on how you do your keywords research on google. A powerful tip is for you to go for long-tail keywords with low competition and high search traffic.
Go for high search volume and keywords with buyer intent if you are considering doing google paid ads. Let's use the jade roller again. Let's say you are paying ads for search phrase "jade roller'' may not be as good as "best jade roller". Notice that the search phrase for "jade roller may be too general and not targeted enough. Someone looking for "best jade roller" may already have some buying intent actively looking for a product you are selling.
The good thing about organic traffic is that you get free traffic for years to come with a one-time effort while paid ads traffic will stop the moment you stop burning money.
[Related Article: How To Build A Dropshipping Website With No Money]
You can connect to free google tools like Google analytics to your Alidropship plugin to get sales and traffic report but it doesn't quite do everything we want. In particular, it doesn't support Checkout Behavior Analysis like Shopify.
Marketplaces
This is a concept which I have learned from a guy David Vu who teaches about doing retail arbitrage from online stores selling at a lower price and listing those products on eBay. If you are curious you can look up his course on Udemy.
I started off launching my retail arbitrage dropshipping on eBay before testing it on Qoo10. You can basically list items from online sites like Banggood, Aliexpress or Blogshop Singapore and selling them in your Qoo10 or Shopee store for a profit. 
[Related Articles: Dropship Supplier Singapore Reviews]
There are also success stories of people dropshipping on Amazon but if you get caught your Amazon account will be banned for life. 
Dropshipping on Marketplaces workflow
This is the basic workflow when you are dropshipping on a marketplace.
Setup a qoo10 store(you will need to pay $100 for 10000 Qcash)

Setup the shipping options in QSM.

List your items from the online retailers you chose.

Go through a cashback site to get extra cash for every order you processed. Update your tracking number in the marketplace platform when the order is shipped.

Provide your best customer service and answer any inquiries from customers or questions from Qoo10.

Process any returns or refunds orders if needed.

You will receive money from qoo10 after around a month. Rinse and repeat.
[Related Article: How To Dropship In Qoo10]
Things to take note
So far it seems to be only possible to use this business model on qoo10 and Shopee in Singapore market but not Lazada. If you are not residing in Singapore, it is possible to execute this in your own country eCommerce marketplace.
In general, marketplaces do not like drop shippers as it will affect their internal metrics like shipping performance and customer experience on their platform.
Always ensure that you know the rules in whichever marketplace you plan to do e-retail arbitrage on. Test a few products and ensure you understand the full process before going all in. Compared to Shopify and WordPress, this will need the least amount of capital investment and maybe you only need your credit card.
[Related Article: How To Choose The Best Items To Dropship]
The main reason is that you do not need to start your own website and drive traffic. It is already done by the marketplace itself where they have a pool of ready customers.
Furthermore, sometimes marketplaces have more credibility and confidence from buyers compared to a website.
However, you will have less control as you will be selling on marketplaces and always at their mercy if there are drastic changes to their rules and regulation.  
How Much Does The Average Dropshipper Make?
This will really depend on which business model you choose but potentially you should be able to set up profitable 5 digits – 6 digits dropshipping business based on what I have shared above. Just to back up what I have said, the following are screenshots from 2 of my stores in qoo10. Their system only allows me to retrieve the latest 6 months sales data.
Is Dropshipping Legal In Singapore?
So far I have not heard anyone go to jail because of doing dropshipping in Singapore. However, you may need to be careful about the products that you are trying to dropship as you do not have control of the quality.
Generally, I tried to avoid anything that needs to be consumed like supplements and only focus on generic simple items liked phone cable or running phone holder. To rest well at night, you may also like to check out the list of contributed and prohibited goods for import from Singapore customs.
Is it legal to run a dropshipping business when serving NS?
Another common question I have received is if it is legal to run a dropshipping business while you are serving National Service(NS).  According to the Ministry of Defence, NSFs are not allowed to undertake salaried or contract employment or run a business while serving their full-time NS commitments.[Source]
Dropshipping Singapore Tax
You should always report any income you made within the shores of Singapore. However, I am not a legally trained tax expert and you may like to contact IRAS directly to inquire about dropshipping Singapore Tax. You can also check out this dropshipping tax information I created based on my own dropshipping experience.
A Final tip On Dropshipping In Singapore
Driving traffic to your own store will be one of the biggest hurdles if you are dropshipping through your own site and it takes time, money and practice to find a formula that works for you.
Do not expect yourself to hit the jackpot on the first try. Experiment and give yourself some time and room for failure.
It is not uncommon to burn a few thousand on paid ads without seeing any results. However, there are also full-time drop shippers that found the winning formula and manage to create a yearly 6-8 digits revenue dropshipping business. 
If you have a low budget or no budget, you can consider doing e-retail arbitrage dropshipping on the marketplace without a website instead which requires less investment upfront.